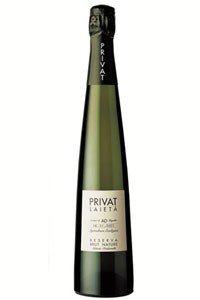 Alta Alella PRIVAT LAIETÁ – agricultura ecológica Alta Alella
Parkers Points: 91
Type of wine: Brut Nature Reserva
Grape variety: Chardonnay
Appellation: D.O. Cava
Alcohol: 12% Vol.
Total acidity: 4,3 g/l
Bottle content: 0,75 l.
Bottles per case: 6
Production: 20.000 bot.
Wine characteristicsPRIVAT LAIETÁ is created after a second fermentation in the bottle and aged a minimum of 24 months in the cellar. It's a Cava which is full bodied, dry and a swift fruity touch from its dominant variety, Chardonnay.
Reserve, Brut Nature. It has a pallid yellow colour. Forest fruits and floral aromas. Very fine bubbles, good structure and very smooth in mouth. Long persistence and very tasteful.