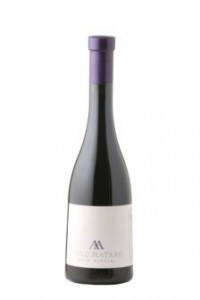 Type of wine: Sweet Red Wine
Grape variety: Mataró
Appellation D.O.: Alella
Alcohol: 14,5% Vol.
Total acidity: 3,1 g/l
Bottle content: 0.50 l.
Bottles per case: 6
Production: 7.000 bot.
Wine characteristicsSweet red wine made with 100% Mataró grapes, a variety that takes its name from the capital of the region. Grapes are picked in an over-ripened stage when they have a high concentration of sugar due to dehydration. In order to extract as much color as possible the maceration takes place in stainless steal tanks during 2 months. The must is pumped over a 2-3 times per day, to help extraction. After a careful and light pressing, the wine is aged in French oak barrels. The wine is then bottled unfiltered after a mild process of stabilization.