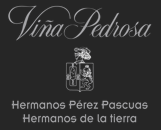 Bodegas Viña Pedrosa
This wine cellar, a pioneer in Ribera del Duero, began activities in 1980, when three brothers, Benjamín, Manuel and Adolfo Pérez Pascuas, convinced of the excellent potential that lay in the vineyards owned by their father, Mauro, decided to initiate an ambitious project: to make one of the best wines in Spain and to carve a niche for it in the international marketplace.
This is a family cellar wich has focused on quality from its very beginnings, with much hard work and intense dedication. Currently, 500.000 bottles are produced yearly and this limited production allows for strict controls of the whole winemaking process from its very beginning.
The cellar owns 135 Hectares of vineyards: 90% Tinta del País and 10% Cabernet Sauvignon.
Today, "CEPA GAVILÁN", "FINCA LA NAVILLA", "VIÑA PEDROSA" and "PEREZ PASCUAS"-GRAN SELECCIÓN- are exported to over 35 countries, accounting for 40% of production.
BODEGAS PEREZ PASCUAS is an example of a well-consolidated, serious cellar that has always distinguished itself by maintaining an irreproachable regularity in its wines year after year.
Pérez Pascuas Gran Selección 2011 wine has got 100 points in Guía Vivir EL Vino 2017 being considered Best Red Wine in Spain 2017.
"It is pure elegance from the beginning to the end. A never-ending finish. A real masterpiece" said Raul Serrano, winetasting director of Guía Vivir El Vino.
Benjamín Pérez Pascuas, in the name of Bodegas Hnos. Pérez Pascuas collected the award. "It is a prize to an style of grapegrowing and winemaking. Its personality is unmistakable. It is a pure and real terroir wine. Harvest 2011 is one of the best vintages I have ever known in my 85 years of life. Pérez Pascuas Gran Selección 2011 can be stored over the next 25 years", stated Benjamín Pérez Pascuas.